Economic Resilience
Economic Resilience
The Covid pandemic taught us many things. Primarily, it taught us the importance of building the resilience of the marginalized communities and vulnerable people to bounce forward. During the pandemic, the Catalyst Group of which Vrutti is a proud member, incubated an all-India collaborative called #COVIDActionCollab to provide relief, recovery and build resilience among the most vulnerable communities.
As the seriousness of the pandemic ebbed away, the COVIDActionCollab evolved as Community Action Collab (CAC) – a dynamic humanitarian emergency platform that builds the resilience of vulnerable people and their institutions, in their everyday emergencies, and is ready for future humanitarian crises (climate & health).
A major portion of Vrutti's work has revolved around building the resilience of the marginalized communities by equipping them to survive and bounce back if there are any disasters or shocks. Economic resilience is central to building the overall resilience of our communities.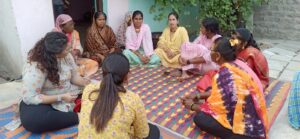 In this regard, Vrutti is leading an Economic Resilience (ER) pilot together with Skoll Foundation and Vitol Foundation. The initiative under the umbrella of the CAC is all about building resilience in a manner that restores hope and power within the hands of vulnerable communities.
Four key approaches have been evolved to build economic resilience under the Economic Resilience Impact Canvas. The Impact Canvas is a platform created by Vrutti to look into systemic problems that became more visible during the pandemic and to curate solutions for these problems. The idea was to come up with solutions that could be implemented at scale. 
These four approaches, designed together with partners and advisors of the Impact Canvas, are Conservation, Diversification, Aggregation, and Risk Pooling (CDAR).

Conservation – Focus on protecting the existing resources and sources of income and reducing expenses by meeting the basic needs. 
Diversification – Bring in more income-generating aspects to the existing source of income and reduce the risk of one source being affected by a shock. 
Aggregation – Aggregation is the coming together to create better social capacity through collective voices and better negotiation of interests among different actors. 
Risk Pooling – Build mechanisms to reduce risks to income sources and assets, including creating social and physical resources to manage risks and mitigating them.
The ER pilot has three implementing partners viz., Head Held High, Transform Rural India Foundation, and Gopabandu Seva Parishad. As part of the ER pilot, Vrutti is working with 2,000 households each in Gulbarga, Karnataka; Barwani, Madhya Pradesh and Puri, Odisha.